Have a look at our latest advertising infographics summarising key aspects of ASA decisions from the past quarter. We consider how many complaints were upheld, what grounds were successful, which sectors and media types received the most complaints, who tends to complain, and more - all in easy-to-read visual form.
Overview (for the period: 1 June - 24 August 2022)
No. of rulings: 87
No. of complaints informally resolved: 114
No. of complaints upheld:

Upheld in full: 74
Partially upheld: 2
Not upheld: 11
Sector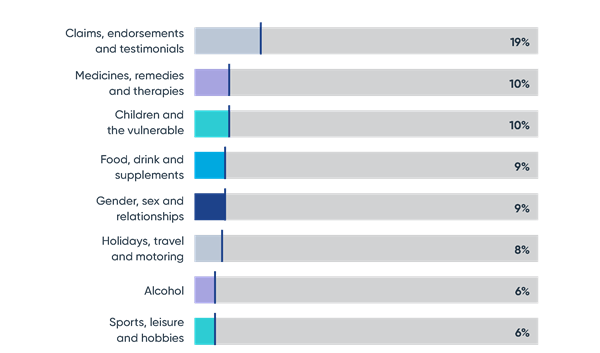 Issue
Media type
Number of complaints
No. of complaints overall: 406
Average no. of complaints per ruling: 4.7
No. of consumer complaints (approx): 374
Majority of complaints came from 4 rulings:

Tesco ruling 8 June: 171
Vegan Friendly ruling 8 June: 63
Served Drinks ruling 6 July 2022: 21
Samsung ruling 20 July 2022: 27
Type of complainant
Number of consumer complaints (approx): 374
CAP Code rules most cited
BCAP Code rules most cited
Rule 3.1 (misleading): 12
Rule 3.9: (substantiation): 7
Rule 1.2: (responsibility): 6
Rule 2.3 (

responsibility

): 6
Rule 3.3 (commercial intent): 6
Rule 4.1 (harm): 6
You can also read our related article on the top ten ASA rulings for Q3 here.
Want to know more?