Have a look at our latest advertising infographics summarising key aspects of ASA decisions for the quarter.
The festive period is likely to have had some impact on the results, with the ASA office closure accounting for a lower number of rulings (65 rulings compared with 81 in the previous quarter) and increased advertising accounting for a greater number of complaints (266 complaints compared with 158 in the previous quarter). 88% of rulings were upheld (compared with 90% for Q4 2022) and the average number of days between publication of the advert and decision was 174 (compared with 195 for Q4 2022). Again, over half of all complaints emanated from consumers and the vast majority related to internet and social media adverts. Financial products/services and children/vulnerable were commonly cited issues.
Headlines (for the period 23 November 2022 to 15 February 2023)
No. of rulings: 65*
No. of complaints: 266
Average no. of complaints per ruling: 4.09
Most complained about:
DeadHappy Ltd t/a DeadHappy ruling (15 February 2023): 115 complaints
Gorillas Technologies UK Ltd t/a Gorillas ruling (15 February 2023): 25 complaints
Vodafone Ltd ruling (23 November 2022): 18 complaints
Rated People Ltd t/a RatedPeople.com ruling (14 December 2022): 11 complaints
My Perfect Cosmetics Company Ltd ruling (14 December 2022): 10 complaints
Average no. days between publication of ad and decision: 174
*An additional 155 complaints were informally resolved but, as details are not published, these are not included in any of our figures.
Outcome of rulings
Type of complainant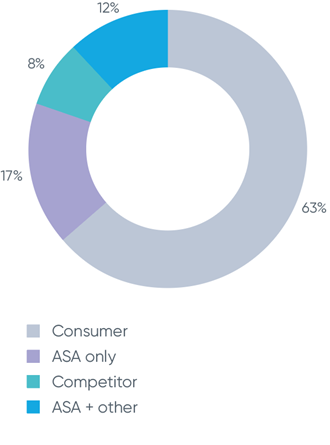 Topic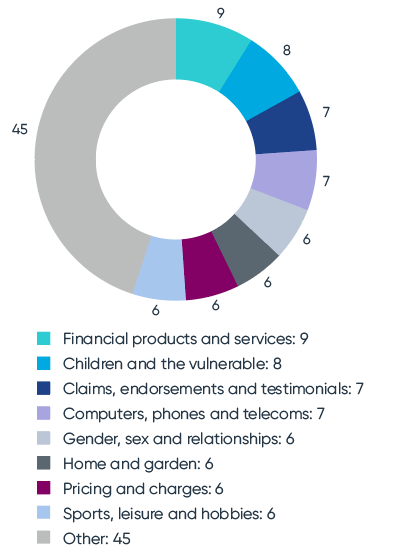 Issue
Media type