As part of our series on brands, avatars and digital fashion, we will take a closer look at a deceptively simple issue: the virtual use of trade marks. Of course, the presence of brands in virtual surroundings is not a concept unique to the emerging Metaverse. Familiar logos and other types of trade marks have appeared in computer games and entertainment media for decades – e.g. placed on digital representations of store fronts, billboards, vending machines and motor vehicles.
However, the rise of digital fashion will likely take things to a new level. A quick read of this week's Bits & Pieces shows that apparel and luxury brands compete for the best ideas to bring new digital products to consumers. Be it through the release of a limited NFT collection (read more on NFTs here) or the collaboration with a virtual gaming platform, iconic brands and creative start-ups are making millions selling digital (fashion) items. And it takes little creativity to imagine the wave of copycat products this commercial success will attract. Within Second Life, one of the earliest massive-multiplayer virtual worlds, a fair amount of user-generated goods was reportedly "fake". Readers might also recall the lawsuit for trade mark infringement related to sales of digital copies of "SexGen" beds on that platform.
Numerous questions arise where brand owners seek to prohibit unauthorised use of their brands in the virtual space. There can be complex issues regarding jurisdiction or the scope of protection granted to brands merely registered for physical goods. Today, however, we will start with the basics: Does the digital representation of a brand in a virtual world even constitute relevant trade mark use? Without trade mark use, there is no infringement claim.
General principles of trade mark use
As most readers will know, there are various categories of trade mark use – each of them associated with different legal principles. For the sake of simplicity, we will leave aside both right-establishing and right-preserving use as well as the prerequisites of double-identity attacks and the additional protection granted to reputed marks. Rather, the focus will lie on what we consider the most relevant scenario in practice, namely infringing trade mark use in cases involving a likelihood of confusion.
Under EU and UK trade mark law, the owner of a trade mark can stop a third party from using an identical or similar mark in respect of products that are identical or similar to the registered products if such use creates a likelihood of confusion. Any claim will only exist where the third party
makes use of the sign
in the course of trade in relation to goods or services
in a way that affects the main function of the trade mark.
With these general remarks out of the way, we will explore how the established principles can be applied to virtual use in the Metaverse.
(Virtual) use of the sign
Trade mark law is extremely flexible when it comes to its applicability to different forms of third-party use. It is sufficient for a sign (identical/similar to the protected mark) to be perceived by the relevant public through text, sound or images. Even forms of use that cannot be perceived directly by the consumers' senses have been considered relevant use (e.g. meta tags, keywords). Against this background, there is hardly any doubt that virtual representations of recognisable brands will, in principle, qualify as "use". The sign could be placed on the digital item itself, be mentioned within its description or perhaps float as a three-dimensional representation in a virtual fashion store.
In the course of trade in relation to goods/services
Use has to occur in the course of trade and in relation to goods/services. If the brand is not associated with any product whatsoever, any likelihood of confusion claim will fail. According to settled case law, a sign is used in the course of trade where use occurs in the context of commercial activity with a view to economic advantage and not as a private matter.
This distinction is particularly important in open virtual worlds which allow third-party creators to contribute to a platform through user-generated content ("UGC"). Within the web3 space, many hope that passive consumers will be turned into active creators benefitting from the advancement of digital ownership. For example, development tools in The Sandbox can be used for the creation of virtual skins or accessories for avatars. According to a recent report, over 11.5 million creators have designed more than 62 million clothing and accessory items on Roblox over the course of 2022.
Where users create digital assets for their sole private use, their activities are likely to fall outside the scope of trade mark law. Fan-made items that bear a recognisable sign but are not commercialised in any way, will typically not be considered to use that sign in the course of trade. Nonetheless, users have to consider potential copyright issues as well as the terms and conditions of the respective platform. But from a brand perspective, the line will only be crossed where the assets bearing the mark enter the commercial sphere.
In the early days of massive-multiplayer virtual worlds, it was discussed whether activities taking place exclusively in a virtual environment are actionable at all (due to the lack of transfer of a tangible product in the physical world). However, with the immense role that in-game purchases in virtual worlds already play, it will be hard to argue that trading digital assets is a purely private matter.
Things can be tricky if such in-game purchases are made exclusively with (non-convertible) in-game currencies or experience points. However, if the platform enables the interoperable transfer of virtual goods, which subsequently increases their real-life value, a commercial setting could exist. It has not been established in how far the possibility of minting an associated NFT is to be taken into account. Additional questions remain as to which specific good/service the brand is used for in each conceivable case (e.g. software, digital items or the video game platform itself) and who can be held liable for the use (e.g. the creator of the item, the provider of the development tool or the virtual platform containing the content).
In line with origin function
In order to give rise to an infringement claim, the sign also needs to be used in a way that can affect the main function of the trade mark. In other words, it has to be used as an indicator of commercial origin for the products in question. This aspect needs to be assessed from the perspective of the relevant public. A realistic possibility of consumers perceiving the sign as a source indicator will suffice. However, if consumers will understand the sign merely as an embellishment, it will not be considered trade mark use.
Several types of conceivable use for digital fashion will obviously constitute trade mark use. For instance, use in an options menu where the user can buy skins for his avatar and the brand is displayed next to the skin. This scenario is close to the shopping experience for real-life products online. More difficult can be cases where the sign is present on the virtual product itself or on virtual store fronts. In some of these scenarios, the presence of the brand could be perceived as a feature to create a more realistic appearance of the virtual surroundings. This could be particularly true where unconventional trade marks for colours or the shape of particular products are involved. Courts will have to examine what the target audience assumes when confronted with such representations of brands.
It may also be necessary to weigh in aspects of artistic freedom into the assessment. By way of example, a US court held that the inclusion of "Humvees" in the game Call of Duty did not constitute trade mark infringement but added artistic value. A similar argument has recently been used by the artist Mason Rothschild, defendant in the law suit brought by Hermès against the "MetaBirkin" NFTs. Rothschild initially claimed that his images resembling the well-known "Birkin" bags were a mere tribute to the original product.
Arguably, the fact that some brands have established a presence in virtual worlds or entered into collaborations with the leading platforms, increases the likelihood of users perceiving signs used in virtual sphere as indicators of origin. To give a few examples, consumers can obtain a true-to-the-original hoodie from the BMW Lifestyle Collection for their avatar through the platform Ready Player Me.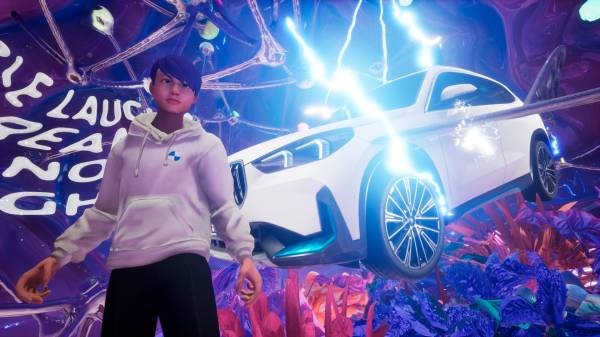 Source: BMW Pressclub Global
Nike/Rtfkt have launched "phygital" experiences which are designed to merge digital fashion with real-life products. Balenciaga and Meta have also recently collaborated to release clothing items for Meta's avatars. Consumers might not necessarily believe that the brand owner itself created the digital asset. However, they may be led to believe that the brand has either (co-)created the virtual products or at least authorised virtual reproductions of its products as part of a collaboration or by licensing the rights. When seeing a particular brand on digital fashion items, consumers might also expect associated customer services or a high likelihood of the product receiving constant upgrades in the future.
Outlook
While many questions remain unanswered, it is safe to say that trade mark law will remain applicable in many virtual scenarios. And while digital fashion is decried by some for being too expensive, the items are likely to become more affordable in the future as new market players enter the space. Setting up adequate brand protection will be crucial in these early stages. Building up on Herman Narula's thoughts in "Virtual Society", we can expect virtual experiences to become as important to users as their real-life interactions, in particular among the younger generations. At that point, they will readily spend significant amounts on digital items allowing them to express their digital identity (in fact, many already do).
The authors would like to thank Ms. Sylvia Burgess-Tate and Mr. Philipp Grotkamp for their assistance in preparing this article. If you enjoyed this content, please consider subscribing to our regular updates.
We provide Taylor-made news on the Metaverse, Web3, NFTs, blockchain technology, cryptocurrencies and much more.