Welcome to the second part of our miniseries about the markets of the metaverse.
In the first article of our journey to the markets of the metaverse, we had a look at its virtual reality headsets. In case you missed it you will find our article here.
In this article, we will define the markets of the underlying software of the metaverse: the operating systems (OS) of these virtual reality headsets.
An OS is required for the basic functioning of any hardware device. It connects specific applications and user inputs with individual hardware components such as processors, memory, display, power management, but also touch screen, camera or internet interfaces.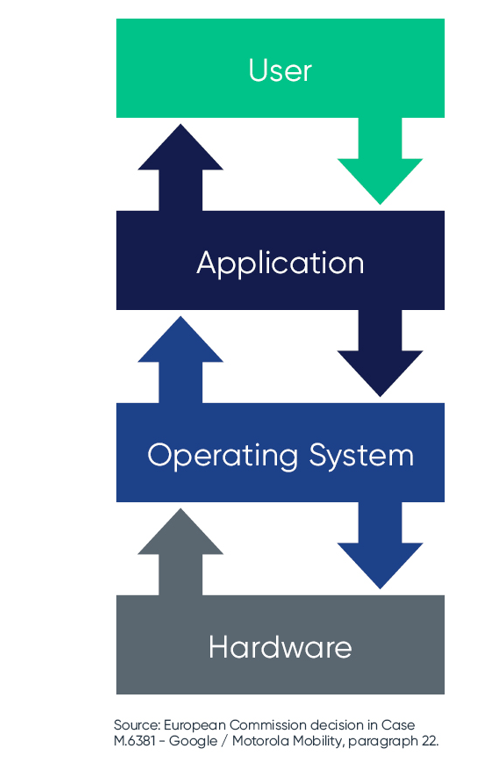 And of course, VR headsets (standalone or connected to other devices) also need an OS. Due to the immense market power of the Meta Quest headsets, we want to focus on these devices here. Meta is working on a special OS for its Meta Quest devices in its Reality Labs. As far as can be seen, however, the Meta Quest headsets currently run on their own Android derivative, for which Meta uses its own layer. Competitor ByteDance seems to be doing the same with its Pico headsets.
And just in the right moment for our topic at hand, the General Court of the European Union dealt with Android OS in September 2022 (Case T-604/18). The European Commission had fined Google in 2018 (Case AT.40099 - Google Android) and this decision has now been largely confirmed by the General Court.
Let's see what lessons can be learned from the proceedings on our VR headsets and their OS!
As a reminder: In our last article we briefly outlined the criteria according to which a product and geographic market is defined. If you want to read up on this again, the article is linked above. Here we go:
1. Product market of OS for VR headsets
From our point of view, there seems to be a separate market for OS of VR headsets, which is distinct from other OS for smart devices and PCs. Furthermore, there is a difference in whether it is a licensable or non-licensable OS.
OS for VR headsets in general
In the above-mentioned Google decision, the European Commission found, among other things, that PC OSs do not belong to the same product market as smart mobile OSs and that smart mobile OSs for smartphones and for tablets belong to the same product market (Case AT.40099 para 219). These findings can be applied here.
From a demand-side perspective, VR headsets require special OS to control the complex devices and special functions of the metaverse (most likely comparable to smart mobiles (Case AT.40099 para 223)). We assume that it is not possible to create the same immersion that is essential for the metaverse using a PC or smart mobile OS. Although the smart mobile OS Android is the basis of the Meta Quest devices, they run on largely adapted versions. In par-ticular the 3D user interface differs significantly from PC or smart mobile OS. It seems therefore not possible to install the latest Android version 13, for example, on a Meta Quest and create the same metaverse experience. Above all, the sensors for moving around in your room have to be controlled specifi-cally, which is a significant difference to the OS on smartphones.
From a supply-side perspective, it is conceivable that programmers who have already developed Android for smart mobiles could also program an OS for VR headsets. However, a key point in the Commission's decision to separate OS for PCs and smart mobiles was that smart mobile OS "require functionalities that are specific to smart mobile devices and are different from those of PC OSs" (Case AT.40099 para 223). Programming a special OS for VR headsets might require substantial investments and time. If this was the case, there would not be supply-side substitution.
Licensable and non-licensable
In addition, a distinction needs to be made between sealed-off, non-licensable OSs for VR headsets and those that are licensable and can therefore be used on a large number of different models from different manufacturers.
With regard to smart mobile OSs, the European Commission has ruled that non-licensable smart mobile OSs do not belong to the same product market as licensable smart mobile OSs (Case AT.40099 para 219). In this case, for example, the European Commission was of the opinion that Apple's iOS does not compete with Google's Android because Apple does not offer iOS outside its own ecosystem. Android, on the other hand, is used under licence on a large number of devices from different manufacturers (as well as on the VR headsets described above). As a result, iOS only exerts a very limited competitive pressure on Android, so that the two OS do not belong to the same product market.
This consideration can be transferred to OS for VR headsets. We are not aware of a manufacturer of VR headset making its specifically to VR headsets adjusted OS available to other manufacturers. However, common standards and interoperability are essential features of the metaverse. We cannot rule out today that in the future, similar to smartphones, there will be widespread licensable VR OSs and parallel non-licensable VR OSs from other providers. Apple with its xrOS would be a hot candidate for the latter. Accordingly, one would have to define different markets here as well.
2. Geographic market of OS for VR headsets
In geographic terms, there are good arguments for worldwide markets of respective OSs for VR headsets.
In the Android decision, the European Commission assumed global markets for smart mobile OSs (excluding China). The European Commission argued that there were hardly any barriers to making the software available worldwide. The OSs can be distributed in seconds via the internet. Also, developers are located worldwide and licences are not granted by region but by device model. For obvious regulatory reasons, however, the Chinese market was excluded from this worldwide market (Case AT.40099 para 403f).
We assume that these considerations can also be transferred 1:1 to OS for VR headsets. There is no reason to assume that there would be regulatory hurdles related to the software that would differ from the smart mobile OS. If VR headsets are not distributed in certain countries for regulatory reasons, the entire devices are usually affected (see the Meta Quest in Germany in our post).
3. Outlook
Google has appealed against the General Court's ruling [Case C-738/22]. We will see (and report) whether the decisions of the European Commission and the General Court will be confirmed. The market definition on the metaverse might also depend on this.
If you paid attention at the beginning of this article, you will have noticed that there is another level after the hardware and the OS: Applications, which are often sold via app stores.
We will look at these in the next parts of our miniseries.