This article by Yosef Harash was originally published online in Hebrew on The Marker.
---
Due to low supply and high demand, the real estate market in Europe, specifically in Germany and the United Kingdom, has risen fast in recent years. Israeli investors are not despairing and are exploring new and less traditional alternatives after coronavirus, such as the life sciences industry and the hotel industry.
Lawyer Paul Lawrence, head of the international Real Estate group at Taylor Wessing, explains that "Israel's high level of vaccination creates a unique opportunity for Israeli investors in real estate". According to Lawrence, "Israelis can now easily travel and inspect properties, unlike foreign investors. To travel to London for a property investment transaction, investors from Hong Kong would need to stay in isolation for 10 days, and then return to a hotel in Hong Kong, at their expense, for another 10 days of isolation - wasting a month on one deal."
Data from JLL research firm shows that in the first quarter of 2021, real estate investments in Europe, the Middle East, and Africa (EMEA) accounted for $25 billion, exceeding those in the Americas or Asia-Pacific regions. Increases in residential real estate prices are not unique to Israel; this trend can be observed in other European countries, such as the United Kingdom and Germany. Increases can be attributed to one basic cause: low supply and high demand. Analyses conducted by the Nationwide Building Society in the United Kingdom found that the average price of a UK apartment increased by 0.7% from May to June and 13.4% annually – the fastest rate since 2004.
Germany is no different. According to a Deutsche Bank report from March 2021, housing prices in Germany increased by 50% in 2010-2020, and the annual demand for apartments is expected to reach 350,000 while construction of about 300,000 apartments is expected to start. "The United Kingdom is facing a housing shortage," Lawrence says. "Government officials are under pressure to increase the number of housing units, primarily in the field of affordable housing, so there are opportunities there, including rezoning."
The price increases attract institutional investors to the rental property market. This year, Harel entered the rental housing market in the United Kingdom for the first time and Clal Insurance entered the rental real estate market in the United Kingdom by investing in the LRC fund by businessman Yehuda Barashi. Lawrence observes that, "Israelis are excellent at identifying and entering new markets early. There are many interesting sectors, such as energy, data centres, and life sciences."
In Germany, the situation is slightly more complex, since the rental market is regulated by the government, limiting investors' returns. Among other things, Germany's rental laws allow rent to be increased only after 15-18 months in which the rent was not raised for the tenant, and the rent cannot be raised by over 15%-20% during a three-year period.
Meanwhile, Argo had one of the biggest initial public offerings in Tel Aviv during 2021. The real estate company, which focuses on preservation buildings in city centres in Germany, raised about NIS 200 million at the beginning of May in an IPO in Tel Aviv based on a value of NIS 1.3 billion, and the share has since increased by about 30%. On the other hand, Summit, by Zohar Levy, exercised assets worth $1 billion in Germany and is focusing on investments in the United States.
Investing in laboratories
The number of companies in the life sciences sector in the world that raised over $100 million: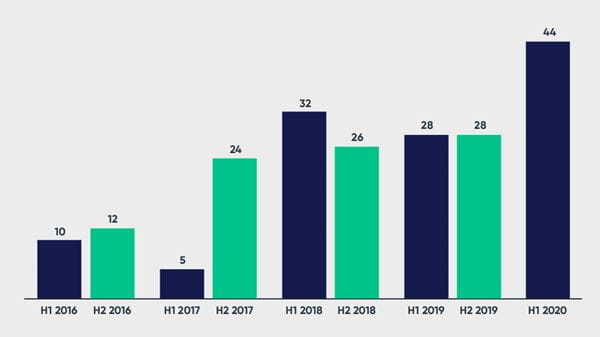 Source: CrunchBase News
A push after the pandemic
"Our firm, which is represented in Israel by Nathan Krapivensky, has been advising Israeli investors since the 90s, when the pension funds began to seek investments outside of Israel," says Lawrence. "In my experience, Israelis are very good at identifying and entering new markets early. In addition to the leading sectors, such as office and housing, there are also interesting sectors, such as energy, data centers, and life sciences."
This trait can be seen in various investments made by real estate companies and Israeli institutions in Europe during recent months. In February, Alony Hetz bought 33 dunams in Cambridge Science Park for £97 million (NIS 437 million). The purchase is expected to generate annual NOI of £4 million.
Real estate in the life sciences sector – the construction of a complex including laboratories, offices, and other services for R&D companies in the field of pharmaceuticals or other medical products – has seen an upswing as a result of coronavirus, as investors realised the potential as well as the need for new medical developments, such as a vaccine for the virus.
"Israeli investors have shown significant interest in life science properties," notes Itsik Tvil, Senior VP and Head of Real Estate and Credit Division in the Harel Insurance and Finances Group. "The UK government allocated £22 billion in subsidies for R&D in the field of life sciences, which boosted the sector. According to assessments, the life sciences sector will account for about 2.4% of the British GDP by 2027. International investors who understand real estate, development, and procurement have an excellent opportunity here. Those who enter early will benefit from the opportunity created by the pandemic," adds Lawrence.
Tvil says that this is one of the sectors they are focusing on. "We tried to compete on a transaction in England, but it was purchased at a very high price and we didn't win. Clearly, demand for these types of transactions is high. There are plenty of other complexes in Europe that we are looking into. Funds invest heavily in this area. Employees of labs cannot work at home - they must come into the facility, and they prefer to stay there due to its proximity to universities."
The market is recovering
International investments in real estate in the first quarter of 2021, in billions of dollars:


Source: the Research Company JLL
Open-air vacation
Another sector that is beginning to generate interest among some of the investors is the hotel sector. In a deal worth NIS 560 million, Clal Insurance obtained a 49% stake in two London hotels owned by the Park Plaza chain of Eli Papouchado.
Yossi Dori, Executive VP of the Investments Division at Clal Insurance, explains: "We believe this field has long-term promise. We looked for properties in leading areas, and the Plaza transaction was an opportunity that arose out of the situation created by the coronavirus pandemic where the transaction suited both parties. This transaction is part of the investment strategy in real estate abroad – in Europe alone we've invested roughly NIS 2 billion in the last two and a half years."
The Clal Insurance company estimates that the hotel market will recover within two to three years, at least in the case of these two properties. Taylor Wessing joined forces with Herzog Fox Neeman to represent Clal Insurance in the transaction.
According to JLL, in the first quarter of 2021, real estate investments in Europe, the Middle East, and Africa amounted to $25 billion, surpassing those in America or Asia. The global hotel segment suffered severe damage, and investors raised funds for investments in the industry. JLL estimates that about $25 billion was raised in 2020 for global investments in hotels and the hospitality industry, and that amount will increase to $33 billion by 2021. JLL identified interest among investors in the hotel industry in Europe in the vacation parks sector, as a result of the demand for open-air vacations following the pandemic. Total transactions in vacation parks often exceeded $1 billion, according to JLL.
The hotel sector, however, does not appeal to all investors. "We actually see more opportunities in the United States. Europe has more patient banks when it comes to putting properties on the market or pressure on developers. European hotels still experience traffic that gives them an occupancy rate, allowing them to live or bleed only moderately. We have prepared with partners to seek opportunities, and they have come back to us with less interesting things than in the United States," says Tvil.
According to Lawrence, "...the hotel field presents many challenges. Each property must be evaluated individually, and there may be issues with owner debt. However, I believe there are opportunities in this field."